The Silent Tracking Times feature allows you to specify company-level working hours and exclude all activities tracked by silent apps outside those hours from reports. This feature is applicable to silent apps only; if your company is using both interactive and silent apps, this will only apply to silent users.
Configuration
To configure this feature, follow the steps below:
Navigate to the Settings / Company Settings page
Under the Configuration section, find the Silent Tracking Times setting
Select Track during specific times
Select the times when silent apps should track time in your company
Select days to which it is applicable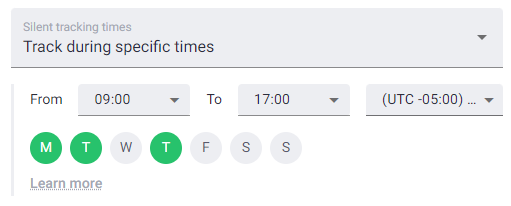 Activities outside of those specified times will be excluded from reports.