If you need to cancel your Time Doctor account for any reason, just log to your Time Doctor account as the company owner, navigate to the Settings / Billing page, and under the Billing details section, look for the Cancel account link.
After clicking on the Cancel account link, you will be presented with a dialog asking why you want to cancel. Select the applicable options and click the Cancel account button.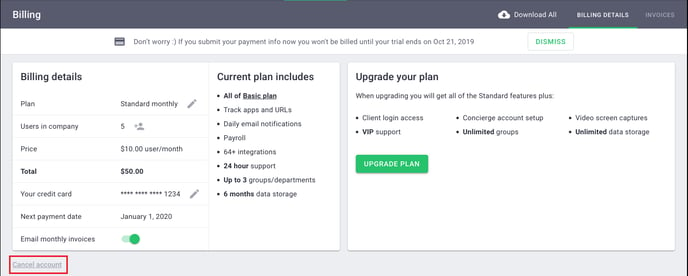 Once you've done that, a message will appear to let you know that the cancellation request has been received and someone from the Time Doctor team will cancel it very soon.
Note: We sometimes receive emails from managers or assistants whose administrators have asked them to cancel the account for them. We can allow this. However, in these cases, to ensure that we're not canceling the account without the knowledge of the administrator and to protect the interest of the company's owner, we'll require a cancellation request to be sent by email to support@timedoctor.com using the same email address that was used to create the Time Doctor account. For the security of the account, we need to be sure that there are no unwanted cancellations. Only then can we cancel the account for you.