This article is mostly applicable to Interactive and Mixed type companies.
Company Configuration
[Interactive apps] Should I Enable Projects & Tasks?


Disabling this feature simplifies the user experience - regular users only have to start tracking at the beginning of the day, pause if they have a break, and stop tracking at the end of the day (or simply switch the app off).
However, if you would benefit from insights into how long each task takes, what exactly users are working on, or you need time per task for billing clients, you should enable projects and tasks.
You can read more about the difference here.
[Interactive apps] Should I Enable Integrations?


If you have enabled Use projects & tasks, you can optionally enable the use of third-party integrations through Time Doctor's Chrome Extension. We recommend enabling this option if you want to give users the ability to:
Track time spent on tasks from tasks assigned to them in tools like Jira and Asana, or on documents (i.e. Google Docs) and events (i.e. Google Calendar)

Track time to ad-hoc tasks that they create for themselves in tools such Todoist
Enabling integrations also reduces the amount of work for administrators and managers since they'd likely need to create fewer tasks (or no tasks) within Time Doctor.
It is possible to enable integrations for selected people only if needed.
You can enable integrations here.
Learn how the Chrome Extension works here and see the list of available integrations here.
Which Web & App Privacy Setting is the Best for Us?


If you don't need very detailed web and app usage information, we recommend the Basic setting since it is more employee-friendly. You would still see how much time employees spend on Jira, Youtube, Excel, etc., however, without the exact URLs, page titles and window titles.
If you need to know all the window titles, URLs, and page titles, Extended will provide you exactly that.
If web & app usage is not one of the types of data you'd like to track, we recommend disabling web & app usage reporting - it is likely to make your employees more comfortable using Time Doctor.
What is the Best Way to Organize Employees into Groups?
Often it makes sense to organize them by departments, by type of work they do, or based on how you organize employees already. Organizing by the type of work they do would make adjusting productivity ratings easier - you'd be able to rate one website as productive for designers but unproductive for developers. One important thing to bear in mind: if a user is a member of more than one group, company-level (not group-level) productivity ratings will be applied to that user; it is worth keeping this in mind when creating groups.

Who Should Be Able to See Screencasts of Other People?
By default, owners and admins can see the screencasts of everyone and managers can see the screencasts of the people they manage. However, if either managers or admins do not need to see other people's screencasts, then the owner can disable their screencast access by going to Settings / Company Settings and modifying the Who can see other people's screencasts setting under Permissions. It might help to reduce micromanagement.


User Configuration
Why Should I Consider Blurring Screenshots?


Besides doing it for compliance reasons, you might want to blur screenshots to make regular users more comfortable with their activity being tracked.
Would you lose important information by blurring screenshots? In most cases, that's unlikely:
You can still tell what a user was doing by looking at blurred screenshots - the text is blurred but in most cases, it is possible to recognize non-work-related activities and get an understanding of what the person was doing. You can also see keyboard and mouse activity levels under each screenshot.

You can see websites and apps that were used by each user in the Web & App Usage report (provided that this report is enabled in your company), therefore, you don't need unblurred screenshots for that.

Blurring screenshots does not affect keyboard & mouse activity level reporting.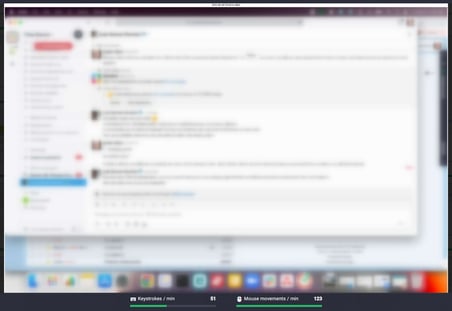 Example of a blurred screenshot.
[Interactive apps] Should I Allow Users to Edit Time?


We recommend allowing users to edit time so that they can make adjustments to their work logs or add time manually if needed. It is especially useful when users have to do some work away from their desk, or if they need to fix errors that they made in their time tracking: if a user is allowed to edit time, they can add that time manually or, if tracking on their desktop app timed out due to inactivity, click on "I was working" and add time manually that way (read more about it here).

You can always review employees' manual time in the Activity Summary report and in Dashboards.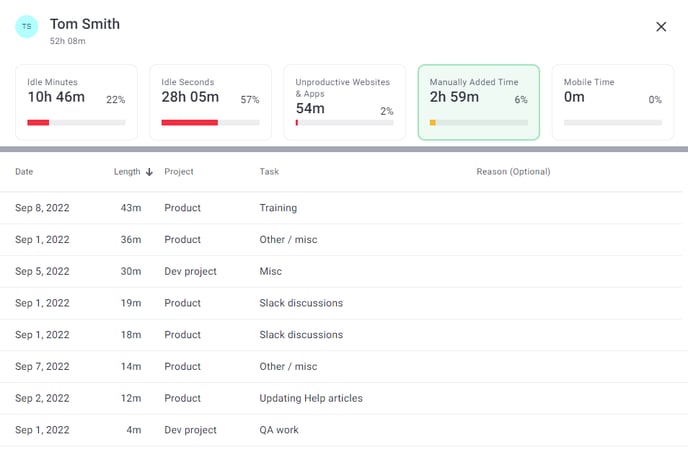 Should I Enable "Don't Time Out on Calls?"


We recommend enabling this setting if employees spend time on calls using
This way, users won't be distracted by Are you still working? popups (for max 2 hours) that are triggered by lack of keyboard and mouse activity while those apps are being used.
What are the Best Thresholds for "Time Out After" for Different Job Roles?


This setting allows selecting a period of no keyboard and mouse activity after which a user's desktop app should automatically time out; a popup asking if a user is still working would be shown on interactive apps before timing out.
Unless a user's job role requires constant interaction with their keyboard and mouse (e.g. data entry), we don't recommend selecting less than 6 minutes.

Suggested thresholds for different job roles:
Sales: 30 minutes
Management: 30 minutes
Software Developers: 15 minutes unless their work includes tasks that require waiting, such as compiling; in that case, 1h might be more reasonable.
Designers: 15 minutes
Data Entry Specialists: 9 minutes.
We recommend starting with a more generous Time Out After limit and reducing it if needed in order to offer a better user experience for regular users, especially, at the beginning when they are getting used to Time Doctor.
We also recommend asking your employees if they see Are you still working? popup too often.