Payroll can be generated at any point in time for any user and exported as a CSV file that can be imported into PayPal, Wise, Payoneer, Gusto, and ADP.
Note: The payroll feature is not available for silent companies.
Who can Access Payroll?
Only the company owner can enable payroll and give payroll access to another user (with any access level). Access can be given on the Settings / Company Settings page - see the Who can access payroll setting under Configuration.



Enabling Payroll
First, you'll need to enable payroll in your Company Settings if you haven't done it yet. See the Use payroll setting in the Configuration section.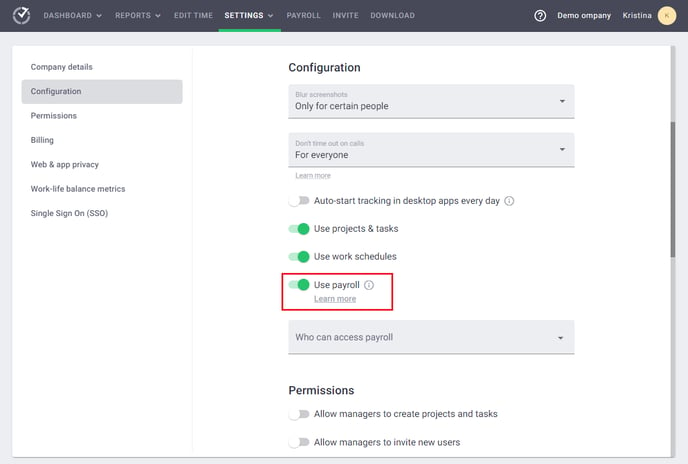 After doing that, you'll see a new menu item at the top called Payroll. Go to that page to configure and generate payroll.
Configuring Payroll

The Payroll page allows you to:
Enable additional payment method(s): PayPal, Wise, Gusto, Payoneer, and ADP.
Note: Manual payment method is available by default.
Select the user(s) that you want to include in the payroll.
Select a date range for your payroll.
Select the payment currency for each user.
Enter the pay rate for each user.
Optional: Add or deduct an adjustment.
You can add additional pay if your user(s) received a bonus, for example.
Select the payment method for each user.
After the above is done, export your payroll as a CSV file and upload it to PayPal, TransferWise, Gusto, Payoneer, or ADP to make a batch payment. If you export the manual payment payroll, it will contain all the information available on the Payroll page.
If you've enabled multiple payment methods, your payroll will be exported as a ZIP file containing separate CSV files for each payment method.

Currencies, pay rates, and payment methods will be remembered for your next payroll.
Information about Payment Methods